Name
Slag
Faction
Neutral
Function
Warrior
Class
Unknown
Alt Mode
Triceratops
Species
Feature Character
Subgroup
Primordial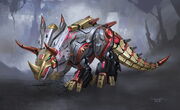 A former member of the Primal Vanguard, Slag met his future commander Grimlock in the brig - having been put there for shooting his commanding officer in the back over a disagreement over battlefield tactics. The two made fast friends and decided to form the Dinobots: a semi-autonomous strike team, one that Slag declared would follow no rules. Maybe Slag enjoys his job too much; after all, a more sensitive warrior might regret the waste involved in reducing an enemy to a smoldering pool of liquid metal. Not Slag. If his metal hide could take the heat, he'd swim in the puddle to celebrate. Perhaps even more than his Dynobot brethren, Slag resents both rules and authority. He's generally considered a disruptive force and has been known to get into brawls and turn his fiery breath against his comrades. Nasty and mean-spirited are perhaps the nicest things one can say about him. About the only thing that keeps Slag in line is Grimlock. Slag has an enormous respect for his leader, and while he may not do it with any good graces, he will always follow Grimlock's lead. That said, Grimlock is as much a target for attack and ridicule as anyone else.  
Character BG goes here.
Knowledge: Primal Vanguard, Melee-Combat, Battlefield Tactics, Malicious Malcontent, Putting the I in Team, Demolitions, Short Fuse.
Strength
97
Intelligence
54
Speed
30
Endurance
Rank
Courage
Firepower
83 (+)
Skill
75
Hit Points
Energon
Abilities
Dinobot Negotiations: After Starchamber finds a way to lure Slag out of the ruins of Blaster City, she leads him to her leader to discuss.. future ventures.

Relationship Status: Onslaught is tasked with getting a status on Starchamber's assignment. It goes about as well as can be expected.
Home and Bond: Slag and Starchamber settle in Yuss - for now - and start a life.
Taming the Lion: Chimera and Slag face off in the first Primordial battle.
Ad blocker interference detected!
Wikia is a free-to-use site that makes money from advertising. We have a modified experience for viewers using ad blockers

Wikia is not accessible if you've made further modifications. Remove the custom ad blocker rule(s) and the page will load as expected.